YR Bison Ranch is  located at Yvonne & Rod Mill's Homestead
Just East of Red Deer, Alberta.
Overlooking rolling hills and fields they raise bison in a quiet, no stress environment, where they are free to roam between fields at their will. Their main breeding herd is at a remote location with year-round access to unlimited grass and little human interaction. All hay is produced on their properties, which they work to improve each year. They do not use any growth hormones, steroids or animal by-products in raising the livestock.
Their herds are healthy and are not contained to small pens.  Each of their bison is graded for meat quality, with consistent  A-1 and A-2 grade ratings.
Bison meat is similar to beef and is cooked in much the same way, although with lower temperatures and/or cooking times. The taste is often indistinguishable from beef, although Bison tends to have a fuller, richer (sweeter) flavor. It is not "gamey" or wild tasting. Bison is very low in fat, cholesterol, and is high in protein, vitamins and minerals, especially iron. Fresh cut Bison meat tends to be darker red and richer in color than many of the other red meats.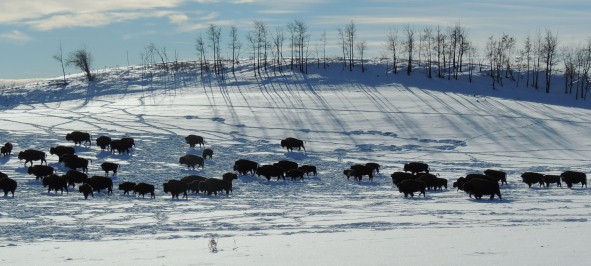 Bison may be used with any of your favorite beef recipes if you remember a few basic tips:
If you normally cook your roast beef at 325 F, turn your temperature down to around 275 F for Bison. Plan on the roast being done in about the same amount of time as with a comparable size beef roast. To insure the temperature you prefer, we recommend using a meat thermometer indicating the internal temperature. Again, rare to medium rare is recommended. Looking for an easy way to prepare a tender, mouth watering roast… try this. Take your frozen roast out in the morning and place into a slow cooker (crock pot), add the contents of one dried onion soup packet with three cups of water. Turn crock pot to low setting and leave simmer for 9-10 hours, turning over occasionally. Remove and serve. Use the both for making gravy or simply pour a little over the meat.
To enjoy roasts that can be sliced and are as lovely as a steak, cook them on the barbecue rotisserie!  Preheat the barbecue to 500 F.  Thaw the roast and season as desired.  Sear the roast on all sides and then turn the barbecue down so it drops to around 324-350 F.  Place the roast on the skewer and set for turning.  Check your roast after 45 minutes for a 2lb, and an hour for a 3lb.  The internal temperature desired is 140 F.  Once this is reached, remove from the barbecue and let rest for about 10 minutes.  This will slice nicely and be a lovely dinner.  Leftovers can be sliced up in a food processor and used as sliced meat!  For full pictures check out the YR Bison Ranch Facebook page.
Ground Bison is also leaner (ranging from 90-95% lean). It will also cook faster so precautions must be taken to not dry out the meat by over cooking it. There is very little shrinkage with Buffalo burger – what you put in the pan raw will be very close to the same amount after you cook it. Pre-formed patties tend to dry out just a little faster when grilling. (Hint: the thicker the patty, the juicier the burger). Medium-rare to medium is best. Although ground Bison is leaner, there is no need to add fat to keep it from sticking to the pan or falling apart.
All Bison meat, no matter the leanness, has enough available fat in it to allow it to cook properly. The great thing about ground Bison is that you don't need to drain off any grease from the pan, the burgers don't shrink, and it's healthy and tastes great!