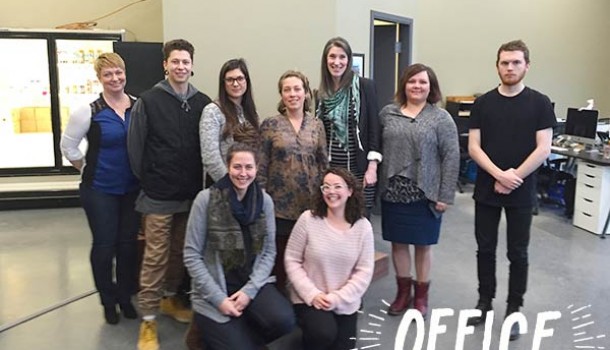 If you have ever been on a warehouse tour or if you come to collect your box here at our warehouse location, you have likely encountered one of the above pictured people.
The Organic Box Office team carries out a variety of tasks and each crew has specific areas of expertise, where they shine each and every day.
Service Team
The front office service team is the group who will help you with your pick-up order. They answer the phones and reply to your email queries. These superstars go above and beyond to help solve any last minute issues related to your member account and are always truly helpful, no matter what the concern.
Product Management
Have you ever wondered how we put together the weekly listings and decide what goes into the standard boxes? Well you have the product management team to thank for that. All week long, this crew is chatting with our local producers and keeping up-to-date on product availability, shipping schedules and any last-minutes issues (think a hailstorm in the summer, or avalanche in the winter).
Our catalogue of products now stretches over 1800 products and it is no small feat to keep track of the inventory, quality, and any potential supply shortages for a given product. The product management team also spends a good deal of time every season crop planning with our farmers to ensure that our Food Family will have a steady supply of their favourite local veggies all season long.
Logistics Experts
Although we don't talk about it as much, we invest a lot of time working to find solutions to common issues in our local food system. Our food hub facility services the Northern Alberta region and allows farmers to focus on farming, while we take care of storage and distribution. Playing such an integral role in the local supply chain requires a lot of coordination effort and our team of logistics experts takes great care to see that all of the behind-the-scenes administration is taken care of.
Team Atmosphere
Our multi-talented office team also boasts skills that extend well beyond their job descriptions. Sitting in our office we have: graphic designers, environmental scientists, musicians, yoga teachers, volunteer board members, engaged community citizens and overall well-rounded, kind individuals. We appreciate the hard work that goes on in our little office and all of the smiling faces that sit at those desks every day!