Eggs are such a versatile ingredient and lend themselves to so many preparations, plus free-range, hormone and antibiotic free eggs from Sunworks Farm make this dish taste so much better. We love how they can change personalities depending on what herbs and spices you use. Ganesha Spices offers a wide assortment of spices that can be used to make the Mexican seasonings. The seasoning mix can be put into a sealable airtight jar and kept for up to 6 months so you can enjoy it on popcorn, chicken, potatoes and so much more.
Mexican Season ingredients:
3 Tbsp Chili Powder
2 Tbsp Cumin Powder
1  Tbsp Garlic Powder
1 Tbsp Cayenne
1 Tbsp Black Pepper
1 Tbsp Salt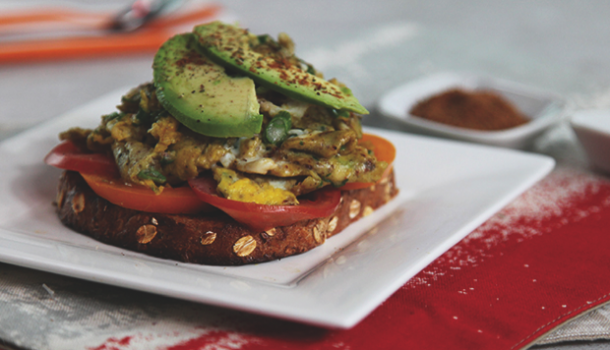 Crack the Eggs into a bowl, add the milk, ginger and spice blend. Beat together until fluffy and well-mixed. Fold in the green onions. Season with salt.
Heat a frying pan over medium-low heat and melt the coconut oil. Pour in the eggs and stir continuously until they are cooked to your desired doneness.
Serve eggs on your toast of choice, with your desired toppings or garnishes. We recommend avocado, tomatoes and hummus.