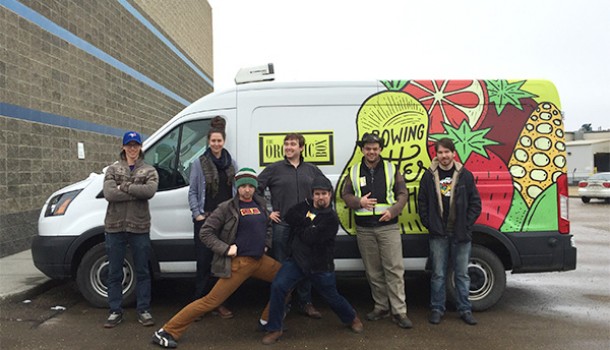 Last week we met the team behind the scenes who pack your box every week. This week, the spotlight is on a set of faces that might be more recognizable to you and your kids, your delivery team!
Planning
Before any boxes leave the warehouse, the deliveries are carefully planned. Every day, our Order Fulfilment Specialist Andrea plots out where all of the households are located and, with the help of some nifty software, plans the optimal route for each delivery driver to maximize fuel efficiency and delivery time. Depending on what part of the city you live in and how many of your neighbours are getting a box this week, your delivery time can fluctuate a bit.
Delivery Team
Chances are, you have met your delivery driver and hopefully gotten to know their name. The delivery team is very experienced, the majority of our drivers have been here for well over two years and some since way back in 2012. This means that over the years they have delivered all over the city and met thousands of food family members. Several of our team leaders in other departments started out on the delivery team and have since grown with The Organic Box to provide leadership and quality service in all aspects of our business.
Much like the warehouse crew, the delivery team has a wealth of talent that extends well beyond safely delivering your food every week. We have actors, clowns, musicians, puppetteers, a pilot, naturalists, master gardeners and artisans in our midst. The wealth of skills and knowledge make for the most captivating conversations when we can get the delivery team together (this can be difficult to achieve with the number of deliveries every day).
Next time you see your delivery driver, give them an extra friendly wave. They all love what they do and seeing your smiling faces is a big part of their day.
The Vans
Did you know that all of our delivery vans have a name? This tradition was started when the fleet had only three vans; The King, the Queen and the Jester. Our fleet has grown to include the Lady, the Duke, the Baroness, the Knight, the Empress, the Bishop and the Chariot. In 2015 we added a large 5 Ton truck to our fleet for commercial deliveries and farm pickups. It was immediately named the Dragon to secure its place in our kingdom. Each van has a unique personality and every driver has a favourite. See if you can spot all of our vans in their natural habitat – the fine streets of greater Edmonton.