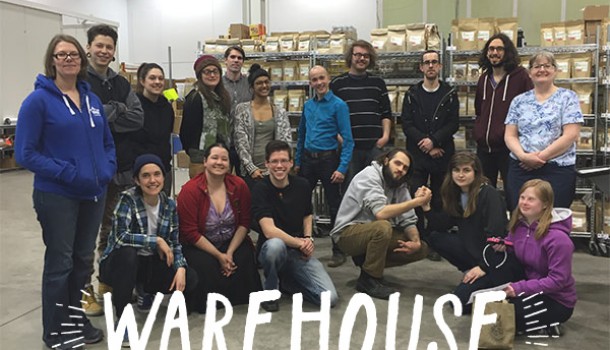 On any given day, the Organic Box warehouse has a dozen or more team members working together to pack your box. Led by Graham, at the helm of our production crew since 2012, the warehouse team takes on all of the necessary tasks related to what goes into your box.
Since moving into our current location, we have crews devoted to specialized jobs all day long.
Receving and Inventory
With over 1800 individual products in our catalogue and 100+ suppliers, our inventory crew is kept busy making sure all of the products we carry are accounted for and of the best quality. We receive shipments from our suppliers from early morning to late at night, depending on road conditions and farmers' schedules.
Prep and Packaging
If you have ever ordered a bulk dry goods product, you have seen the handiwork of our prep team. In addition to packaging bulk goods into manageable portions, the prep crew ensures that all of our products are ready for packing and that the entire warehouse is in ship shape to get that packing done. In the morning, the shelves are all magically stocked, the coolers and freezers are organized and all of our packing supplies are right where we need them.
Production
This team is in charge of packing your orders. They specialize in ensuring your box is filled with the best, freshest, most wonderful products that are available. Having worked together for several years and placing a strong emphasis on teamwork, watching this crew work is like watching a choreographed dance.
Shipping
In addition to home delivery in greater Edmonton, we service outlying communities in Northern Alberta and various wholesale and food service partners. This diversity in shipping requirements means our shipping team needs to be on their toes all day long.
Team Atmosphere
Two thirds of the staff in our warehouse have been here for three years or more, with a combined team experience of over 45 years. In addition to being food superstars, our warehouse crew boasts a wealth of talent outside of our building. We have artists, musicians, yoga instructors, community leaders, activists, athletes and overall wonderful human beings in our midst. Together, our warehouse team is a strong unit and we are all so proud and grateful to pack your box each week.