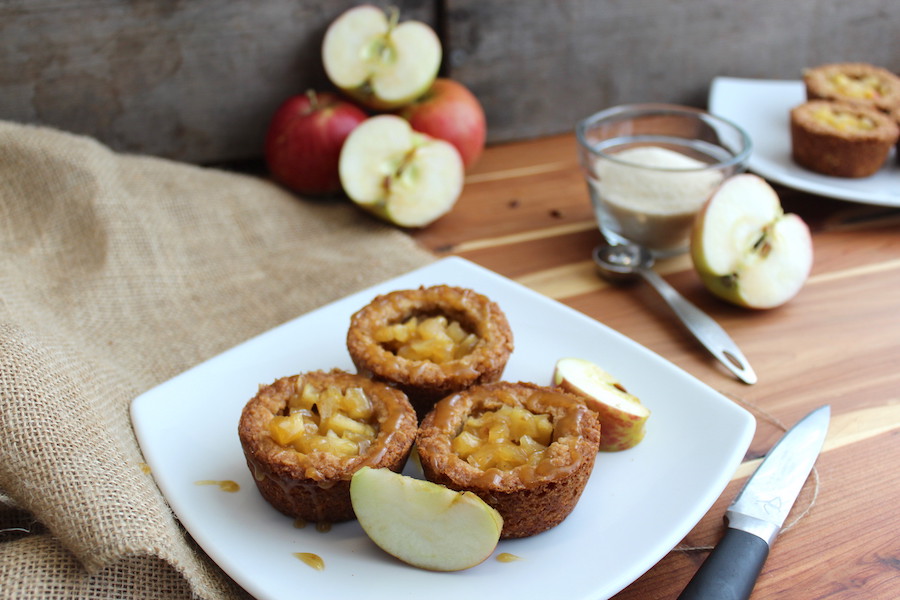 Yields 15-16 Cookie Cups

INGREDIENTS
Cookie
Cooking spray 
1 c. (2 sticks) Butter (softened)
1 c. Brown Sugar
1/2 c. granulated sugar
2 large eggs
1 tsp. pure vanilla extract 
1 1/4 c. all-purpose flour
1 3/4 c. rolled oats
1 tsp. baking powder
1/2 tsp. ground cinnamon
1/2 tsp. kosher salt
Apple Filling
4 Apples, peeled, cored and finely chopped (Sunrise/Granny Smith are great)
2 tbsp Butter
1/4 c. Brown Sugar
1/4 c. Granulated White Sugar
1 1/2 tsp. cornstarch
1/2 tsp. ground nutmeg
1/2 tsp. ground cinnamon
Caramel
1/4 cup milk
1/2 cup butter
 1 cup packed brown sugar
1 teaspoon vanilla extract (optional)
Preheat oven to 350°. Grease 2 muffin tins with cooking spray. In a large mixing bowl using a hand mixer, add butter, 1 cup brown sugar, and 1/2 cup granulated sugar and beat until light and fluffy. Add eggs and vanilla and mix until evenly combined. Add flour, oats, baking powder, cinnamon, and salt and stir until just combined.
Using a medium cookie scoop, scoop dough into muffin tins, and flatten the centre while drawing the batter up to the side walls of the cupcake mould (the centre should be sunken.) Bake until cookie cups are golden brown and set, 18 to 20 minutes.

While cookies are still warm, make the cups. Spray the bottom of a small shot glass with cooking spray and press shot glass down into the center of each cookie to create cups. Let cool in the pan for 5 minutes, then transfer to wire cooling racks to cool completely.

Meanwhile, start making the caramel. Bring butter, and milk to a gentle boil, whisk in the brown sugar and cook until thickened, 1 to 2 minutes. Remove from heat; add vanilla extract. (The caramel will thicken as it cools)

Last, melt 2 tablespoons butter in a medium skillet over medium-high heat. Add apples and cook until beginning to soften. Add remaining 1/4 cup brown sugar, 1/4 c granulated sugar, cornstarch, nutmeg, and cinnamon and cook until soft and caramelized.

Spoon apple filling into cups. Drizzle with caramel and serve warm or at room temperature.