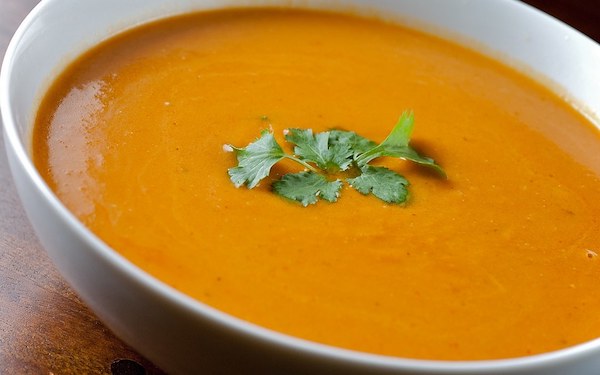 Ingredients
Directions
Preheat oven to 350°F.
Split the squash in half lengthwise and remove the seeds. 

Place it cut side down on a baking sheet and bake for 45 minutes to an hour or until the squash is very soft when poked with a fork.
Let it cool for a few minutes until it's easy to handle. Scoop the flesh of the squash into a blender or food processor. 
Add the coconut milk and 2 cups of chicken broth; blend until smooth. 

Pour into a large pot and add more chicken broth to achieve the consistency you prefer. 
Heat over medium heat until hot.
Heat the oil in a small saucepan over medium heat for a couple of minutes. 

Drop-in one slice of shallot/onion to check if the oil is ready – it should immediately bubble furiously. 

When the oil is ready, drop in enough shallots/onions to have a single layer in the pot (it usually takes us 2 batches to do them all). 

Let them cook until golden brown and crispy; drain on paper towels and sprinkle with salt. 
Save the oil for mixing with pasta, rice, mashed potatoes – anything where you'd like some yummy shallot/onion flavour.
Serve the soup and pass around the shallots for people to sprinkle over top.
Serves 4.