Food-related trends emerge, blow up, and fizzle out like nobody's business. Sometimes they villainize certain foods or food groups, other times they glamorize. It's hard to keep up with the fads and even harder to keep up with what's actually good for our bodies and our sweet mama earth.
When it comes to the way we relate to food, it doesn't have to be trendy or come attached to a flashy name. The simpler, the better. 
There's something to be cherished from knowing precisely what you're putting in your body and where it came from. Eating locally and seasonally are two key ways to keep your eye on the origins of what you munch on. But, why?
For starters, it's good for your health, and it promotes balance when it comes to the distribution of the earth's resources. We down with Brit Burr from Tuja Wellness to discuss what eating local and seasonal looks like in Alberta and how to go about doing it. 
"Eating seasonally and locally is a quick choice with a huge impact. When the environment feels out of our control, what we feed ourselves and our families on a daily basis can truly make a difference. It's an empowering feeling! An ethical and sustainable food system already exists. We simply must choose it!" Said Kelsea Alba from our Canmore Team.
So with further inquiry from Tuja and insight from Kelsea, here are some simple tips for eating seasonal all year round in the most challenging country in North America. 
Look to the Google Gods. 
If you're getting mindful about where you spend your money and get your goods, you might as well go all the way. Research nearby or neighbouring vendors on Google and social media. Share your food-related values in your research and conversations, and make sure that you trust their mission statements.
It's not just about buying organic. It's about buying organic from small-scale farmers. Why? Because you get the chance to build a connection with those growing your food and stewarding the land. At The Organic Box, we're in constant communication with our network of small-scale farmers. We've seen their agricultural practices first-hand, we know what conditions they are working in, and we've heard stories about their challenges and how they've decided to overcome them. Plus, we work with meat, dairy, produce, and even snack creators, so you are sure to find an amazing, locally produced option in our catalogue.
Be proactive: dry, freeze, preserve, & pickle
So, how the heck are we supposed to eat locally when not much grows 'round here in the winter? It's all about getting proactive in the summer. 
Buy case-lots! There are often great deals on bulk fruit and vegetables when they're in season. You'll get way more bang for your buck! Have a party with your friends, or tune up a good podcast and get after it: can, jam, pit! It's a lot of work, but it's totally worth it when you open up that tasty can of homemade tomato sauce in the middle of the winter. You can get garlic scapes right now and they are delicious when pickled and last up to 8 months, check out recipe!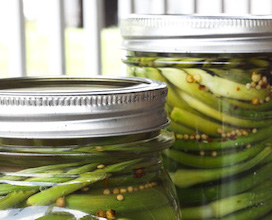 Shop at farmer's markets. 
Farmers' markets make it easier than ever to eat seasonally. Farmers bring their A-games when it comes to growing and forging seasonal goodies for market season. It's what's abundant, thriving, and delicious, so why wouldn't they!? On top of that, you're far more likely to get food grown close to home if you shop at your local markets. We even attend two markets in the Bow Valley region!
Get yourself a middle man. 
Rather than accidentally buying from factory farms because it happens to be there when you're at the big-name grocery stores, have someone bring it to you! We act as the middle man between you and the producers that make your food. We have direct relationships with our suppliers to help create our Food Family and ensure that we are growing better together. Ordering with us is easy as pie, and you can get everything you need from meat, snacks, and produce, to even household supplies, delivered with us!